Maple yogurt and caramelized pears dessert cups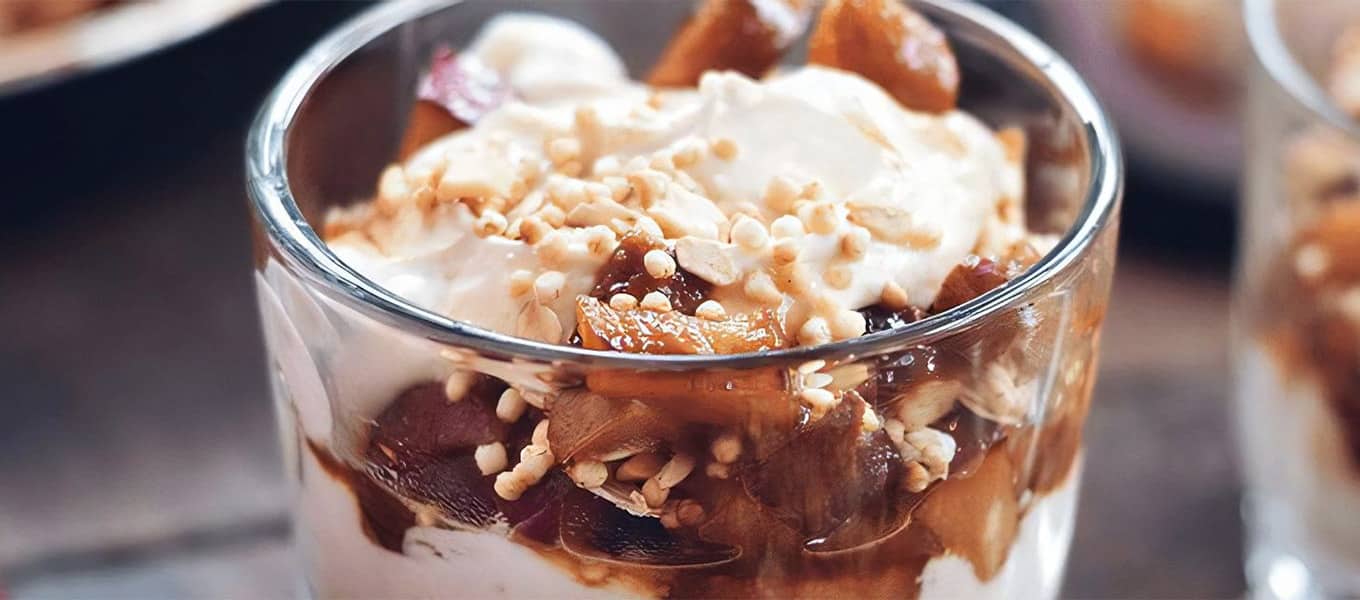 When our Maple yogurt meets crunchy granola and pears! 
Ingredients
Crunchy Granola
15 ml (1 tbsp) melted butter
3 tbsp (45 ml) maple syrup
375 ml (1 ½ cup) puffed quinoa
½ cup (125 ml) oatmeal flakes
⅓ cup (80 ml) chopped cashew nuts
Garnishment
Preparation
In a medium saucepan, melt the butter in the maple syrup and bring to a boil. Lower the heat and bubble gently for 3 minutes.
When the mixture is syrupy, add the puffed quinoa, oatmeal and walnuts, and stir vigorously. Continue to cook over medium heat and shake gently for about 3 minutes or until flakes begin to brown.
In a medium non-stick skillet, melt the butter and add the remaining maple syrup. Add the pears, making sure to coat them with the preparation and leave to caramelize for about 3 minutes*.
Pour about ½ cup (80 ml) of yogurt in each cup, cover with pears and a little granola. Add about 30 ml (2 tbsp) yogurt to the top, a few cubes cubes and sprinkle with a little more granola.
Serve immediately so the granola remains crisp!
*Do not shake too much to obtain a beautiful golden coloration on the cubes without purée.
Recipe & photo credits : Cynthia Marcotte