Creamy salmon with spanish accents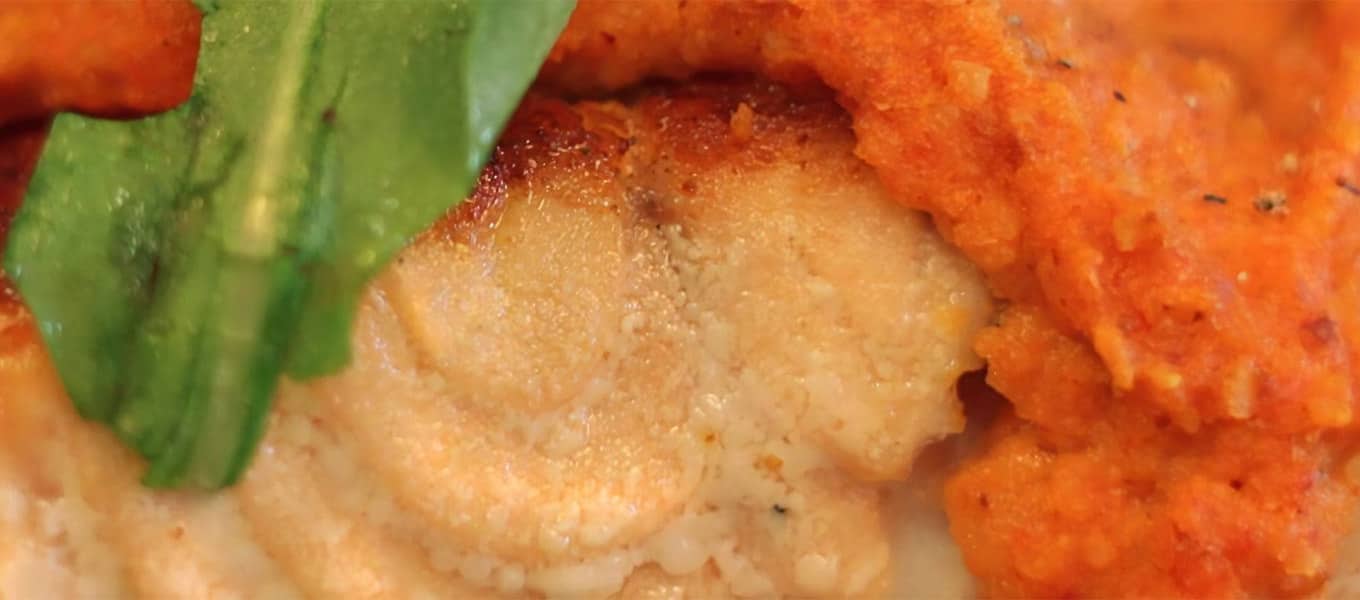 Preparation

10 minutes

Cook Time

30 minutes

Serves

4
Viva España! This recipe with Iberian accents is sure to leave you with a taste for travel. Pair the grilled salmon and romesco creamy sauce with a small green salad and you've got the makings of a sublime culinary moment. This sauce also pairs well with pasta and sandwiches, and it can even stand alone as a dip.
Ingredients
THE ROMESCO SAUCE
2

 tomatoes, halved
⅓ cup (80 ml) almonds

1

 clove garlic
⅓ cup (80 ml) dry bread
¼ tsp (1 ml) cayenne pepper

2

 roasted red peppers (piquillos)
2 tsp (10 ml)sherry vinegar
1 cup (243 g) Olympic Krema plain yogurt
THE SALMON
27 oz (800 g) fresh salmon fillet
2 tbsp (30 ml) Mycryo cocoa butter
⅓ cup (90 ml) romesco sauce
Olive oil
Salt and pepper, to taste
THE ARUGULA
2 cups (500 ml) arugula, washed and drained
1 tsp (5 ml) white balsamic vinegar
Salt and pepper, to taste
1 tbsp (15 ml) olive oil
Preparation
THE ROMESCO SAUCE
Preheat oven to 180°C (350°F), with the grill in the center.
On a baking dish, cook the tomatoes, cut side down, for about 25 minutes.
Remove the tomatoes from the oven and press them into a colander to recover the pulp.
Place the tomato pulp and the remaining ingredients in a food processor and process until a uniform consistency is achieved.
Combine the romesco sauce and yogurt in a bowl.
THE SALMON
Preheat the oven to 230°C (450°F), with the grill in the center.
Sprinkle the Mycryo butter onto the salmon.
Sear the salmon in a hot non-stick frying pan, 2 minutes on each side.
Place the salmon on a baking dish, evenly top with the prepared sauce, and bake for 6 minutes.
THE ARUGULA SALAD
Meanwhile, for the vinaigrette, vigorously combine the balsamic vinegar with a pinch of salt and pepper, gradually adding the olive oil.
Just before serving, drizzle the vinaigrette over the salad and toss.
Serve the salmon with the seasoned arugula.