Cod fritters with mango yogurt sauce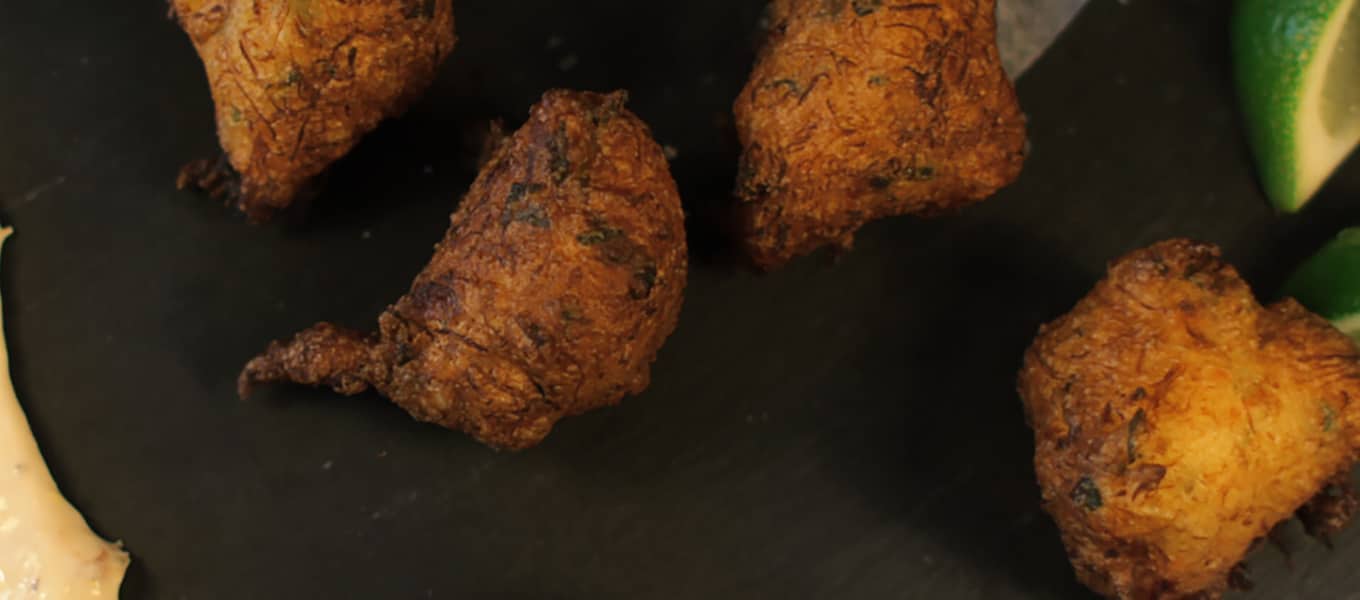 A Caribbean classic with a creamy touch to top off the texture. An immoderate explosion of flavours for your intimate aperitifs among friends.
Ingredients
COD POACHING
1 cup (250 ml) water
1 cup (250 ml )milk

1

 sprig of thyme

1

 sprig of rosemary

3

 garlic cloves, peeled
FRITTERS
9 oz (375 g)fresh cod

6

 egg yokes
10 oz (300 g) flour
10 oz (300 g) milk
½ cup (100 g) Olympic Krema plain yogurt

3

 cloves garlic, minced

¼

 bunch parsley, minced

1

 small onion, minced
2 oz (60 g) sweet pepper, finely diced
4 tsp (20 ml)Jalapeno pepper, finely diced
1 ½ oz (45 g) baking powder (chemical leavening agent)
A pinch of salt and pepper, to taste
YOGURT SAUCE
1 cup (243 g) Olympic Organic mango yogurt
2 tsp (10 ml) Sambal Oelek
Salt and pepper, to taste
Preparation
Poach the cod in the water and milk for 5 to 10 minutes.
Remove and crumble the cod.
In a bowl, use a whisk to beat the egg yokes, flour, milk, yogurt, and salt and pepper. Add the cod and the remaining ingredients and continue stirring until a uniform consistency is reached. Check the seasoning (salt and pepper).
Preheat the deep fryer oil or heat about 1 litre of oil in a saucepan.
Using a tablespoon, add part of the mixture to the warm oil. Deep-fry for about 1 minute, until the balls are golden brown. Drain on paper towels.
To prepare the sauce, combine all the ingredients in a bowl. Check the seasoning.
Serve the cod fritters with the sauce.